Dr. A's Speaking Demo Video
After 15 years of research and client work, Dr. Ahern's new book, Snap Out of It Now!, her inspirational keynotes, and life-changing workshops offer practical tools and techniques to train our brains to work for us, not against us.
If you are interested in having Dr. Adrianne Ahern speak at your location or event, please call 1-800-753-1417 or contact us.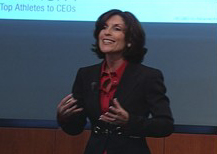 Watch a clip of Dr. A's speaking demo!
(Considerable download time)